In July 2005, Rosa and I travelled to Paris, France. It was our first trip together; we had only been dating for 6 months. It was Rosa's second trip to Europe, but it was my first time to the continent.
I had always wanted to travel further abroad. When I was layoff from Nortel back in November 2001, I had planned to buy a 1-way ticket to Europe and discover myself. However, that never happened – my manager started calling me to get me my current job back at Nortel in CDMA, so I stayed in Ottawa for the interview.
But Rosa gets full credit for the idea that we should travel to Paris. We booked the hotel and air tickets and prepared for the trip. I studied as much French as I could; looking back it was really very limited.
When we arrived at Charles De Gaulle airport (July 8th), we discovered our luggage had not made it with us, due to a very quick transfer in Washington (it was less than 10 minutes from deboarding one plane until we boarded the boarded the next). Next, we had to try to negotiate a hotel shuttle. My limited french failed us, and we finally took a taxi instead of a shuttle. The driver was going to charge €50, but I complained (I think) and brought it down to €40.
Once we dropped off our bags at the hotel, we went out to find a shopping mall to buy some cheap clothes until our luggage arrived from Washington. Rosa found a white coat, which can be seen in the first photo.
We had supper and then went out to see the city. Our first stop at Musée de la Vie Romantique was not planned, but rather we stopped in as we were walking by on the way to see the Moulin Rouge. The next stop was the Eiffel Tower (Tour Eiffel). During the summer, the tower is open until midnight; it was already sunset when we arrived at the tower. This was the week after Paris lost the competition to host the 2012 Summer Olympics to London. The Tower still had the 2012 banners up. It was sadly also the day after the London subway bombings, so the French police and military were out in force.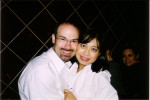 We took the elevators all the way up to the top of the tower. At the top of the tower, around 11:15pm, with the lights of Paris spread out below us, I got down on my knee and asked Rosa to marry me. I knew that she was the one for me. Apparently, my speech was a bit long, but once she understood what I was asking, she said Yes!
The next two days were spent mostly at The Louvre. It is a massive museum that was originally a French palace. Food was not allowed inside the museum, but we hid some protein bars in the camera bag and ate them while surrounded by splendid art. We also walked around outside, taking pictures on the grass, and visiting Place de la Concorde, which was where King Louis XVI and Queen Marie Antoinette were guillotined. Across the Seine River from Place de la Concorde is the Palais Bourbon, which now houses the French National Assembly.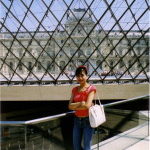 On the fourth day, we only spent part of the day finishing off the Louvre, and then we crossed the river to see Musée d'Orsay.
Over the following days, we also visited Musée Picasso, Musée Rodin, Musée de la Musique, Musée Cognacq-Jay, Maison Européenne de la Photographie, Opera National de Paris Garnier, the Musée Galliera (Fashion Museum), and the Musée de la Mode et du Textile (part of The Louvre).
We also visited Tombeau de Napoleon (Napoleon's tomb) at Les Invalides. It was a massive, deep red sarcophagus. I was surprised; it had not occurred to me that he would be entombed in Paris instead of Saint Helena. On the same theme, we also went to Pantheon, which was a wonderful piece of architecture. Underneath are the tombs of many famous people, including Victor Hugo (one of Rosa's favorites), Voltaire, Rousseau, and Marie Curie.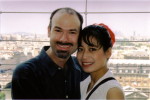 We visited Île de la Cité, one sunny day. There was supposed to be a Flower market, but it was not open until later in the day, so we went to Conciergerie where Marie Antoinette was imprisoned. Nearby was Sainte-Chapelle, a smaller gothic cathedral. We went shopping in the market (which was now open), and then on to Notre Dame de Paris. We went up to the top of the bell towers and had a great view of the fantastic gothic roof and of Paris itself.
On the recommendation of a fellow passenger on our flight to Paris, we visited Château de Vincennes, an older castle in the south-east of Paris. Unfortunately, most of it was closed for renovations when we arrived.
One evening we walked up Avenue des Champs-Élysées, stopping in the gardens (Allée Marcel Proust) along the side. We also saw the Grand Palais and Petit Palais as we walked along the street. The next day, we also visited the Arc de Triomphe.
Another place we visited was Centre Pompidou and the Musée National d'Art Moderne. The museum contained some very interesting works of conceptual art.
One of our last days was to see Musée National Des Château de Versailles. It takes about an hour to get there on the subway and train. We were not entirely impressed. Many of the famous rooms were being renovated. There was a longer tour we could have taken, but it was more expensive. Also, contrary to the tour books, the fountains in the garden were not operating, so we did not tour the gardens behind Versailles. On the train back into the city, Rosa and I both fell asleep because it was a long, hot day.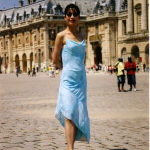 On our final day, we visited La Défense to see the Grande Arche. We had a funny moment when another tour group from China yelled out and pointed in my direction. I ducked out of the way, but Rosa, who understood what they were saying, didn't understand why I was running out of the way until she remembered I don't speak Chinese. We laugh about this even today.
During our 2-week stay in Paris, we also did some shopping, although Rosa was disappointed to find that the places the tourists go are very expensive. Somewhere in Paris, I'm sure there are places where the locals shop for clothes that are more reasonable, but we did not find them. One of the interesting stores was the 7-story department store Galeries Lafayette.
Even after nearly 2 weeks, there were still parts of Paris we did not visit, which only invites us back to see more in the future.
Our photo gallery: http://gallery.myredbmw.net/v/Travel/Paris2005/ (registration or password required). The sample photos are from the gallery. There is also a Google Earth KMZ file that can be downloaded (here: Paris-2005) which shows all of the interesting locations we visited or walked by.