Last month, I decided that I should visit a museum or other interesting site once a month. There are many sights and attractions here in Ottawa that I have never visited. After living here for 13 years, it's time that I take in all that Ottawa offers.
Today, I decided to visit the Canadian Aviation and Space Museum. I last visited the museum sometime before 2000.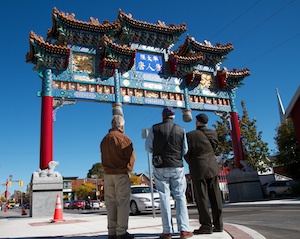 Before I went there, I wanted to stop in Chinatown to see the new gate that was opened earlier in the week. It was such a beautiful day, I didn't mind walking around.
The gate looks fantastic. The colours are very rich, and the detail is very intricate.
I walked around Chinatown, then down Bronson and finally back to my car. I left for the museum, using my iPhone to provide directions.
Some of the exhibits are the same as when I was here over a decade ago. The nose of the infamous CF-105 Avro Arrow, the huge BOMARC surface-to-air missile (which was part of the replacement for the cancelled Arrow), the various passenger planes that opened up the remote areas of Canada, and some of the early planes in Canadian history.
I was pleasantly surprised to see a full-scale mock-up of the new F-35 fighter that Canada is apparently purchasing.
I am not an accountant, so I cannot comment financially if it is the correct time to be replacing the older CF-188 Hornet. But I am not sure if this particular plane is right for our military. The combat range is longer than the 'short-legged' Hornet, but has only a single engine. Originally Canada only used twin-engine military jets as it offers redundancy over the very remote areas of Canadian territory (or over the ocean that is so critical to Canada). With only a single engine, any engine issue means that the plane has to be ditched (total loss) if it cannot glide to a landing location. I am concerned about the costs (I am assuming that other reasonable alternatives could be cheaper); we are replacing the 80 Hornets with only 65 F-35's.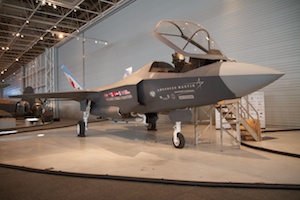 The new fighter would provide a significant increase in other respects, such as stealth (the Hornet has very little stealth) and increased range. I think selecting the F-35 was a foregone conclusion many years ago when the Canadian government invested $160 million to be a level-3 participant. I know that eventually the Hornets need to be replaced, and it is important that Canada continue to have an air protection and force projection capability. We need to protect our sovereign territory. Russia in particular is looking to increase its reach into the Arctic region. Interception of Russian bombers is increasing in frequency. So even though at this point in the 21st century we are not faced with large military manoeuvres against a great enemy (we are faced with an insurgency armed with goats), we need to plan for what cannot be foreseen – the world in 2030, not 2010.
On the upper floor of the museum is the Space section. There are fewer items on display here, as Canada is not really a space-faring nation. But there are uniforms, spacesuits, notebooks and other smaller memorabilia on display. There are more Canadian astronauts that I though, although not all of our astronauts have made it into space.