Today Rosa and I went to the 2011 Capital Pride Parade. This was the 25th year for the parade. It was our first time. I've attended the post-parade event at City Hall in the past with friends.
We were not sure about the weather as Ottawa was about to feel the effects of distant Hurricane Irene. The clouds were building and rain was in the forecast. We viewed the parade from Bank and Laurier. There was a viewing area blocked off.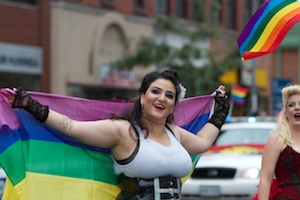 The parade was much longer than I was expecting – it lasted about 45 to 60 minutes. There were floats and vehicles from all over – city, provincial, and federal governments, school board, firefighters, police and ambulance services, the universities, groups and clubs, sports teams and so forth. Mayor Jim Watson started off the parade, following immediately behind Ms. & Mr. Capital Pride.
It was a warm atmosphere (unlike the actual weather) – everyone was clapping, yelling encouragements and shouting, "Happy Pride Day! We are so happy for you!"
The weather held off until the parade finished and it started to rain as soon as the parade finished as we were walking back to the car. The reports about the event indicate that it had record crowds this year – 50,000.