Today Rosa, Lemin and I went to the Butterflies Go Free (Papillons en Liberté) show at the Montreal Botanical Gardens (Jardin Botanique de Montréal).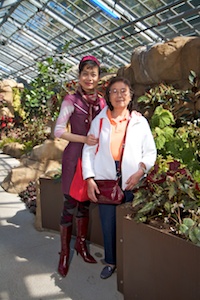 The Botanical Garden has a series of long connected greenhouses for their indoors exhibitions. Each contains a different ecosystem, such as tropical, subtropical climates, bonsai trees, deciduous forest and desert. There was also a display of carnivorous plants like Venus Flytraps, Lady's Slipper orchids and Pitcher plants. Trés Cool!
At each end we're larger greenhouses (the Main Exhibition Greenhouse and the Fern Greenhouse). The Fern Greenhouse housed hundreds of moths. Some were feeding on orange slices. Most were sleeping, as moths are nocturnal. At the far other end of the was the Main Exhibition Greenhouse containing the butterflies. There were hundreds multi-coloured butterflies flying through the building. I could not get any photos of the butterflies flying, because they darted around too fast and too chaotically. I could only get photos when they were standing on a leaf or branch or eating.
Afterwards, Rosa and Lemin went shopping on Saint Laurent Boulevard. I found a quiet place where I could write.
We met up for dinner at Casa Minhota.
Photos are posted at http://gallery.myredbmw.net/v/Events/Butterflies2012/