Today, Rosa, Lemin and I went to see the new Cirque du Soleil show, Amaluna. It premiered in Montreal two days ago. It was the first time any of us had seen a Cirque du Soleil show. I have wanted to see a show for years.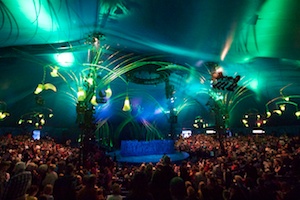 Amaluna was performed in a big tent (Le Grand Chapiteau – The Big Top) at Quais du Vieux-Port de Montréal.  It was a bitterly cold day in Montréal.
It was warmer inside the tent. There were big heating units attached to the outside of the tent that blew warm air into the tent. The performers, many of whom wear very little, need to stay warm and limber.
The show was wonderful. Before the show starts, performers work their way through the audience, providing some entertainment while everyone takes their seats.
Once the performance began, we were awestruck. The artists were fantastic. Some of the moves were so incredible it was more like stunt work than an artistic performance. The music was played live by an all-girl rock band.
I look forward to seeing more Cirque du Soleil performances.