Joe McNally is a photographer and instructor that I greatly admire. I read his blog weekly and watch his videos on YouTube. Before I left on vacation, I was told by a friend that Joe would be coming to Ottawa with his "One Light, Two Light" tour. However, I would still be on vacation, but I could make the class offered in Montreal which was the day after I returned. At the last moment before we left for Europe, I bought a ticket, reserved a hotel and booked off one more day of vacation.
I drove in last night, after only a single night at home. I stayed at Hôtel Le Dauphin, which was next to the Convention Centre. The hotel was very nice; it was the only hotel I've been in that provided a computer in the room to use. The next morning I walked to the Centre and found my way up stairs to the classroom.
The class had about 100 attendees, a mix of pros and amateurs.
Joe came on stage at 9:00, and did not have a specific agenda or even any prepared activities. It was just him, walking on to the stage and creating some great photos from scratch. He choose folks from the audience to be the models. He was able to create some fantastic portraits of very diverse people. He has a knack for it of course. It was awesome to see him pick someone and pull out such character from them. He has a real talent for this. It is one of the keys to his success in photography is the way he can interact with the subjects.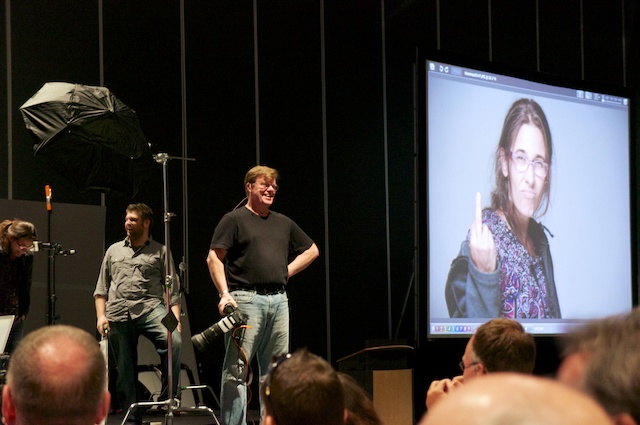 By the end of the event, I was so inspired. I want to try everything I saw. The hardest part to improving in any activity is finding the time!